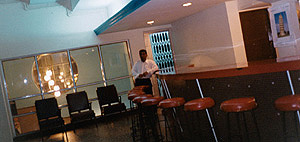 The refreshment bar....




... in the equally spacious upstairs lobby. Below is the side lobby.
Shengaran (also known as Shankar), who has recently moved to Klang, has managed the theatre for the last year. As a former hotelier and newcomer to Ipoh, he entered the theatre business with no exhibition experience.
"The theatre was in a run-down condition when I arrived," he says. "I was totally new to the industry, and it was especially a challenge to learn the technical side. But I eventually learned, thanks to picking up things from magazines and people like Valerie."
Shengaran first launched a series of improvements which included painting and the replacing of seats. "Comfort is a big thing here. That's one of the key ways to win back business."